Posted by Lisa on Monday, December 25, 2006. Filed under:
Snacks
,
Traditional Indonesian Food
Onde-onde ketawa. It means Laughing Onde-onde (!?). No, better not to translate it to English.... ;-p. It sounds better if we call it just like it should be : Onde-onde Ketawa.
I'm not quite sure from which part of Indonesia this food is originally come. But when I lived in Bumiayu, a small city in Central Java, this food can be found easily. So lets say, it's Central Java...
Actually, Onde-onde is an Indonesian snacks made from white glutious (sticky) rice powder with sweet moong dal paste as filling. The differences between the real Onde onde I mention above and this Onde-Onde ketawa is that the latest one is made from all purpose flour instead of glutinous rice powder. And it doesn't have anything as filling. It makes Onde onde ketawa taste more crunchy and not sticky like the other one.
The cooking method is quite easier. It doesn't take much time to make the batter. But we have to be carefull with the frying method. Use a lof of oil with medium heat only. The balls should be deep-fry in medium hot oil to let them bloom (
sorry, I still cant find the right world to decribe it... ;-p
) perfectly.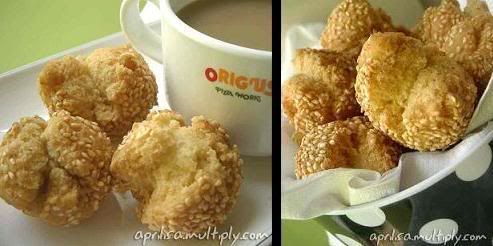 Ingredients:
100 ml water
175 grams white sugar (I used only 150 grams)
1 egg
2 tbsp cooking oil
300 grams all purpose flour
1/2 tsp baking powder
1/4 tsp soda powder
100 gram white sesame seeds
oil for frying
Boil water and sugar in a pan until the sugar dissolved. Let it cool. Beat cooking oil together with egg in a low speed mixer until well combined (2 -3 minutes). Add sugar syrup little by little and beat them for another 1 minute. Sift together flour, baking powder and soda powder into the sugar mixture. Mix well with a spatula.
Make balls (10 grams each) from the batter. Drop it into water, then roll it over a bowl of sesame seeds. Deep fry the balls in medium hot oil with medium flame until golden brown. Remove from pan. Drain it with kitchen towel.